CGIL Lombardia is the regional structure of CGIL, General Confederation of Italian Workers, born in Italy in 1906. The number of affiliated is over 915.736 members.
CGIL Lombardia runs its activity all over Lombardy Provinces affiliating almost one million members. Its structure is composed by territorial structure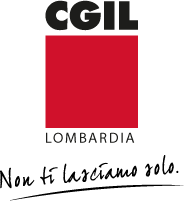 s, Chamber of labour, and sectoral federations , which affiliate members in every activity sector. This way CGIL Lombardia is able to strongly represent workers ' interests in the region, having union reps in thousands of enterprises from industry, services and public sector. The confederal regional structure is also involved in social dialogue activity on tripartite rounds with employer organizations and the regional government. Furthermore CGIL has a strong capacity to contact and support citizens providing services, such as those in the field of legal advising on rights, workers condition and access to social benefits. CGIL Lombardia runs network activity since 2000 establishing a solid cooperation with Trade unions of the so called "four engines regions of Europe": Lombardia, Catalogne, Baden-Wurtemberg et RhôneAlpes. CGIL Lombardia cooperated in different projects not only with these organisations, but also with organisation of other European Union member states. Goals and objective of the CGIL Lombardia are defined in its statute Main activity of CGIL Lombardia concern representation of workers and improving of workers' rights.
CGIL Lombardia is the biggest structure among the Italian regional structures of CGIL. The structure of CGIL Lombardia is widely diffused in the region. CGIL Lombardia is organised in 14 territorial districts covering all the regional provinces. CGIL Lomabrdia districts are the following: Bergamo, Brescia, Brianza, Como, Cremona, Lecco, Lodi, Mantova, Milano, Pavia, Sondrio, Legnano, Valcamonica, Varese. In every district CGIL Lombardia has a central trade union house, Camera del Lavoro, and other sites in the minor cities and villages of the district. CGIL Lombardia includes and organised in its network also Trade union federations of every sector. CGIL Lombardia sectoral federations are the following:
• FIOM Lombardia – Federazione Impiegati Operai Metallurgici (Metalworkers)
• SPI Lombardia – Sindacato Pensionati Italiani (Pensioners)
• FLAI Lombardia – Federazione Lavoratori dell'Agro-Industria (Agrofoodworkers)
• FILLEA Lombardia – Federazione Italiana dei Lavoratori del Legno, dell'Edilizia, Industrie affinied Estrattive (Wood and building workers)
• FILT Lombardia – Federazione Italiana Lavoratori Trasporti (Transportworkers)
• FILCTEM Lombardia – Federazione dei Lavoratori della Chimica, dell'Energia e del Tessile (Chemical,Energy, Textileworkers).
• FILCAMS Lombardia – Federazione Italiana Lavoratori Commercio, Albergo, Mensa e Servizi (Services and Commerce workers)
• FISAC Lombardia – Federazione Italiana Sindacale Lavoratori Assicurazione e Credito (Insurance andCredit)
• NIDIL Lombardia – Nuove Identità di Lavoro (Athypical workers)
• SLC Lombardia – Sindacato Lavoratori Comunicazione (Communications and Mass media workers)
• FLC Lombardia- Federazione dei Lavoratori della Conoscenza (Education and School Workers)
• FP Lombardia – Federazione dei Lavoratori della Funzione Pubblica (Public sector workers)
• Other bodies are Students Association and tenants associations.